Day Skipper Course - Shore based and Practical
Combined RYA Day Skipper Theory and Practical Course
The RYA Day Skipper theory and practical course run over 9 days is ideal for those with limited time who are looking for a convenient way of to achieve the full Day Skipper qualification, as quickly as possible. This course runs from a Saturday through to the following Sunday. By utilising both weekends, it is possible to complete both the Day Skipper theory and the Day Skipper practical course with just 5 days off work! The first 4 days are spent in the classroom where you will concentrate on learning the RYA Day Skipper shore based syllabus. This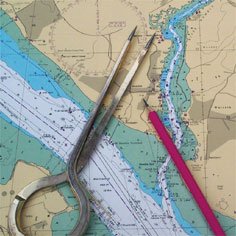 is immediately followed by a 5 day practical sea phase.
During the sea phase you will put into practice all that theory you have learned in the classroom. Each student is given the opportunity to navigate and take control of the yacht on short inshore or coastal passages. Your instructor is there to ensure that your first, perhaps hesitant steps as skipper are taken in safety. There will be plenty of opportunity to practice your boat handling in a variety of mooring situations, and whilst at sea your instructor will cover subjects such as watch keeping, deck work, sail trim and how to cope in emergency situations.
A skipper is totally responsible for the management of a yacht, so the course also includes meteorology, basic engine checks, passage planning, preparing the yacht for sea, and rules of the road. Night sailing is also undertaken to give you a taste of pilotage in the dark. By the end of this course the successful RYA Day Skipper will be able to undertake short coastal passages by day, in both tidal and non-tidal waters. Successful completion of this course means that you can charter one of our yachts. Perhaps the one you trained on!
Accommodation onboard is only included for the 5 day practical sea phase of the course. Whilst you are shore based, you will need to stay in local accommodation. A full list of accommodation options can be found on our website, under Contact BOSS/ Joining Details.
Pre-course experience:
5 days, 100 nautical miles and 4 night hours on board a cruising yacht
Minimum age: 16
Teaching ratio on board 5:1
Not included in the course fee: The theory part of the course is non residential , so local accommodation will be required.
Although accommodation is provided onboard for the practical element of the course, the mooring fees are split between the students. Wet weather jackets & salopettes are available to hire for £7.50 per day. A selection of accompanying course books & logbooks are available to purchase.
Students should allow for one evening meal ashore on a five day course. All other catering including three evening meals are provided onboard.
PLEASE NOTE THAT WE ARE UPDATING AVAILABLITLITY AS QUICKLY AS WE CAN, HOWEVER DUE TO HIGH DEMAND, WE WOULD RECCOMMEND CALLING US ON 02380 457733 to CHECK AVAILABILITY PRIOR TO BOOKING ONLINE. THANK YOU