Ladies RYA Competent Crew Course
RYA Competent Crew
The ladies only RYA Competent Crew course is the basic introductory course for both the complete beginner, and those who have some experience of cruising. The course is planned to give you as much fun and enjoyment as possible. While you cruise you will learn about safety at sea and will be given lots of opportunities to master the seamanship skills of steering, changing sails, reefing and tying the essential knots.
Living onboard throughout the course, each night is spent in new place. You will visit many of the quiet creeks, bustling fishing ports, anchorages and yacht harbours of the Solent and south coast of England during the Competent Crew course. And in the evenings there will be time to relax and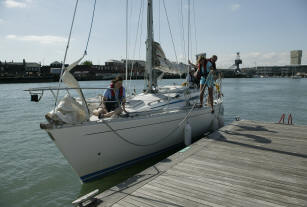 reflect on the events of the day.
By the end of this course your confidence will be boosted and with new found knowledge, friends and skill you will feel like a useful and capable crew member.